G-45S Songwriter
Prices range from $3,600 to $4,100
The G-45S  songwriter series: The G-45S Songwriter Series is a new edition of an early model.  The first G-40 was built for Merle Watson in 1968 and later that same year was renamed the G-45.  While relying on previous characteristics, we reimaged the G-45 with standard features of mahogany back and sides, Sitka spruce top, a smooth matte finish with with an overall lighter weight construction.  The Songwriter is also available in black (Nightwriter) and cream  (Nightingale).
In designing the G-45S, we want to provide a more affordable opportunity to step up to a truly handmade guitar that is of superior quality in construction and sound to a factory guitar.  In addition, we want the finish to reflect the ability for it to be a workhorse guitar for everything from writing songs to hitting the road for songwriter rounds to bluegrass festivals.  We offer case options for the G-45: "hard" gig bag or molded case.
The appointments are consistent on all guitars in the G-45 line regardless of body size BUT will vary slightly by model within the series (black or cream).  From dreadnoughts to parlors, we can build your Songwriter the way you want.
To order your G-45S Songwriter, call 615-624-4196!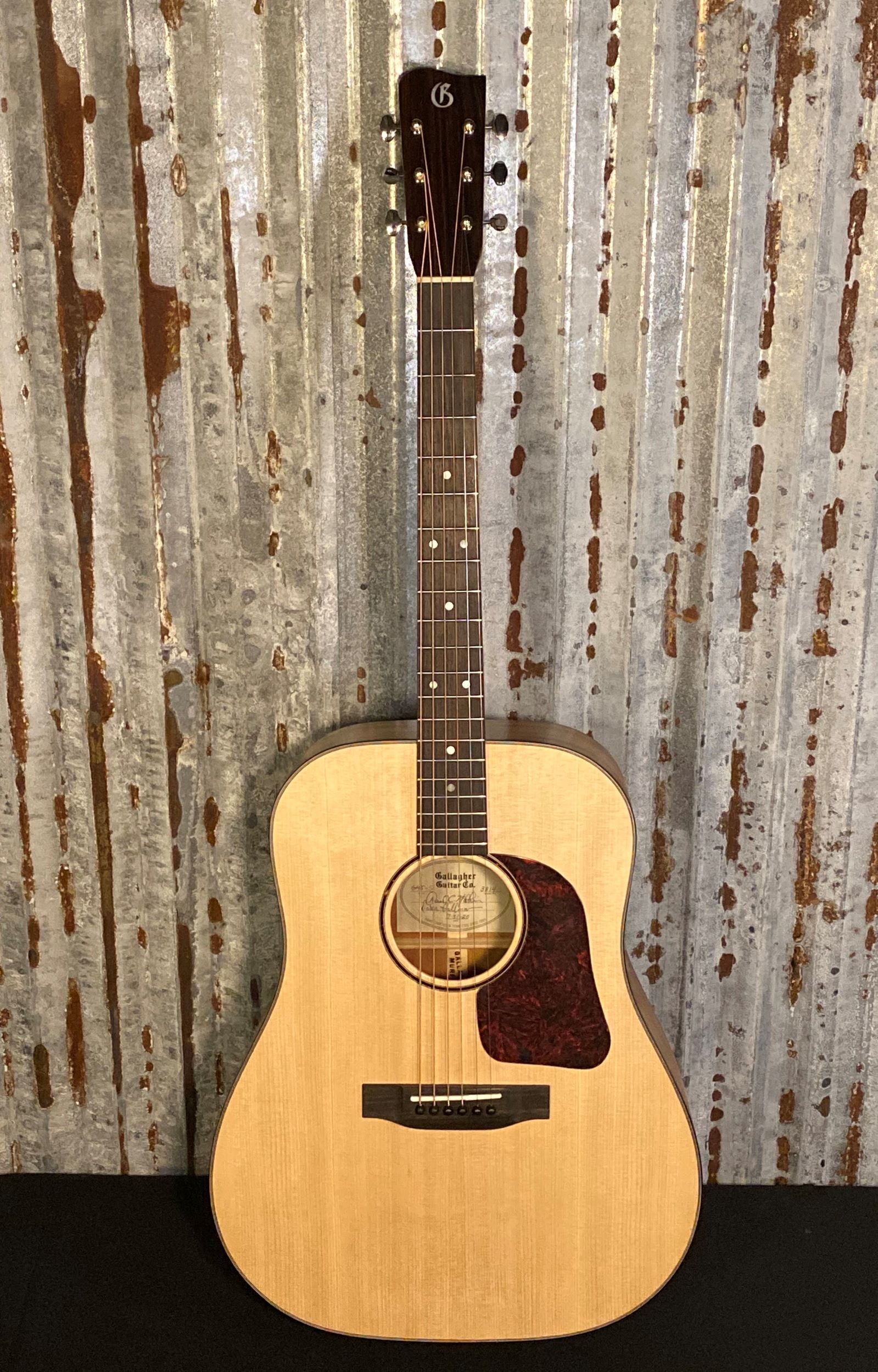 Interested in the G-45S? Let Us Know!
Three G-45S Songwriter models
SONGWRITER  $3,600
Rosewood bridge and fretboard
Dot markers
Black binding for body
Gallagher "G" on headstock
Single

Tortoiseshell

rosette
BWB purfling/trim
Ivoroid end and bridge pins
Smooth matte finish
NIGHTWRITER  $4,100
Same appointments as the Songwriter except:
Black matte finish
Ivoroid binding for body
WBW purfling/trim
NIGHTINGALE  $4,100
Same appointments as Songwriter except:
White Dove matte finish
Cream binding for body
WBW purfling/trim
Gold tuners
G-45S Songwriter Options
G-45 Songwriter guitars come with your choices of a hard gig bag or for a $60 upgrade, a TKL molded hardshell case.
As a guitar line, the G-45S can be built in any of the body sizes. (see chart below) All woods, appointments and finishes are the same.